Nexenta's pioneering innovations has guided us to our leading Open Software-Defined Storage (OpenSDS) software solutions for Private, Public, Hybrid and Multi-Cloud enterprise environments with the Nexenta AnyCloud vision. Nexenta enables a wide variety of workloads from legacy enterprise to next-generation cloud-native apps, on any cloud platform, any protocol and any hardware infrastructure to power the largest and most cost/performant data centers globally.
Key Benefits of Nexenta in the Private, Public, Hybrid, & Multi-Cloud

Flexible for Your Business
     

Virtual Workloads
     

Today & Tomorrow's Application Needs
     

Full-Featured
     
Being a software-based storage system we give you the flexibility to deliver how and on what certified hardware is right for your cloud
Integrated and optimized for VMware, Microsoft, and OpenStack infrastructure environments
Giving options to scale-up or scale-out when it comes to building support for the applications which drive the services in your cloud
The enterprise feature you need and expect as you are making clouds to operate your business and solutions
Nexenta and Your Private Cloud
As your organization is building private cloud you need to leverage technologies that offer you an enterprise feature set you need with the agility for your cloud to scale while not breaking the bank. Nexenta's OpenSDS solutions are supporting private clouds around the world built on Docker, OpenStack, and VMware.


Container technologies have recently fueled further growth in the cloud to provide even additional speed and scalability within the datacenter. Nexenta's solutions are built to support and develop leveraging container-based technology to deliver on these efficiencies.

Nexenta has partnered with VMware and our customers for years to build some of the most modern data centers. As a VMware Elite Partner and VMware Ready Certified solution, Nexenta customers can be confident in making clouds based on our collaborative solutions.
To learn more about how Nexenta and VMware partner together visit, here
 

Nexenta participates in OpenStack projects, including Cinder (block storage) and Swift (object storage). Delivering the first commercially available open source-based block storage driver for Cinder, NexentaStor has remained on the cutting edge of OpenStack storage options.
Learn more about Nexenta's OpenStack drivers here
Customer Benchmark Results: Two of Nexenta's Solution Provider Customers who have leveraged Nexenta's solutions to build public cloud solutions have developed their benchmark results. Click on their logo below to learn more:
Nexenta and Your Public Cloud
Moving data to a public cloud can help expand your capacity. Secondary data stored in the cloud makes sense for protection or seldom used data. However, primary data located in the cloud may also make sense if you also plan on migrating the workloads to run in the cloud where they can share a LAN connected backplane.
NexentaCloud in AWS delivers a rich data storage solution increasing storage efficiency for public cloud through data reduction, enhanced visibility, and management of your cloud workloads. To learn more go here
To begin a trial visit the AWS Marketplace today.

​
Nexenta Hybrid Cloud
Interoperability for cloud-deployed applications and cloud-hosted data remains a crucial part of the continuity equation. Industry analyst researchers found that 80% of applications remain "non-cloud' while the 20% that are cloud-native are driven by more externally facing applications, such as mobile and web applications, where most back-office applications evolve more slowly.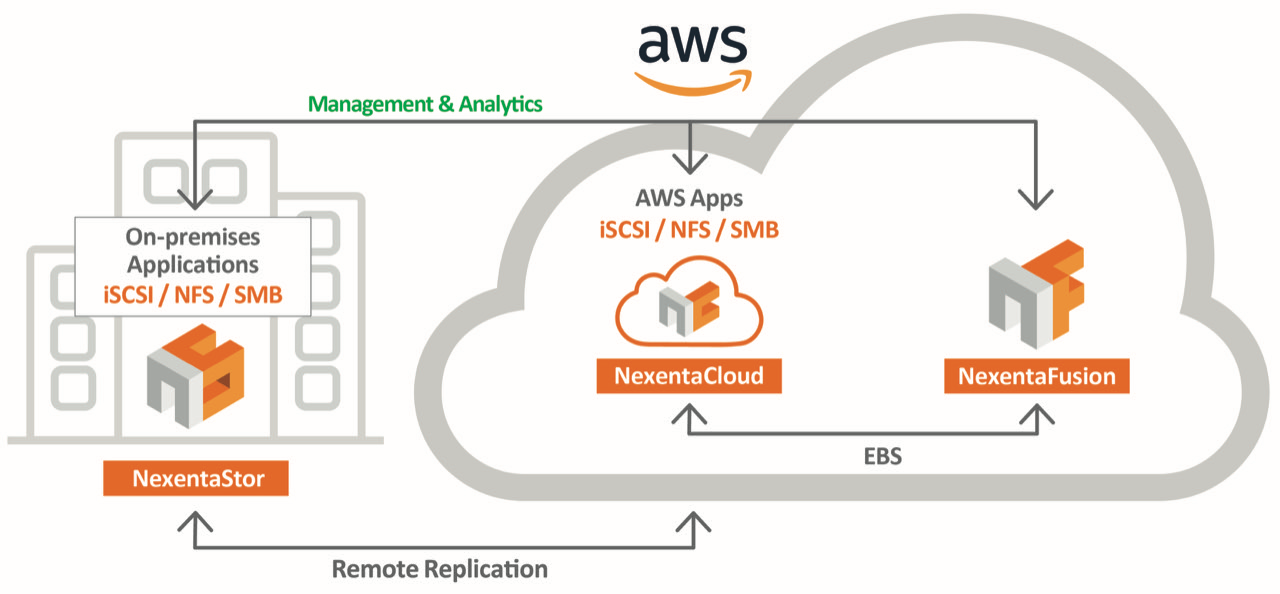 Nexenta's complete portfolio of solutions makes it easy for enterprises looking to build an end to end hybrid cloud storage environment to do so. By leveraging NexentaStor and NexentaCloud organizations can easily replicate between their public and private data centers. Then leverage NexentaFusion as you centralized management for day to day tasks along with the comprehensive analytics of your hybrid cloud storage.