Now a part of the DDN family, both Nexenta by DDN and Tintri by DDN have come together to offer customers a unified solution to simplify their storage deployments and expand their usecases.
With Nexenta by DDN software-defined storage, Tintri customers can now benefit from full-featured block (iSCSI) and file functionality (NFS & SMB) with a mature homegrown SMB stack for Windows and Mac clients, hardened over more than thousand enterprise customers. Because the joint solution is optimized specifically for Tintri, NexentaStor VSA for Tintri is deployed via a specific OVF on VMware ESXi hosts and the Tintri datastore. Made to maximize dedup and data reduction for Tintri, NexentaStor VSA is managed via NexentaFusion or a VMware vCenter plugin (Flex or HTML5).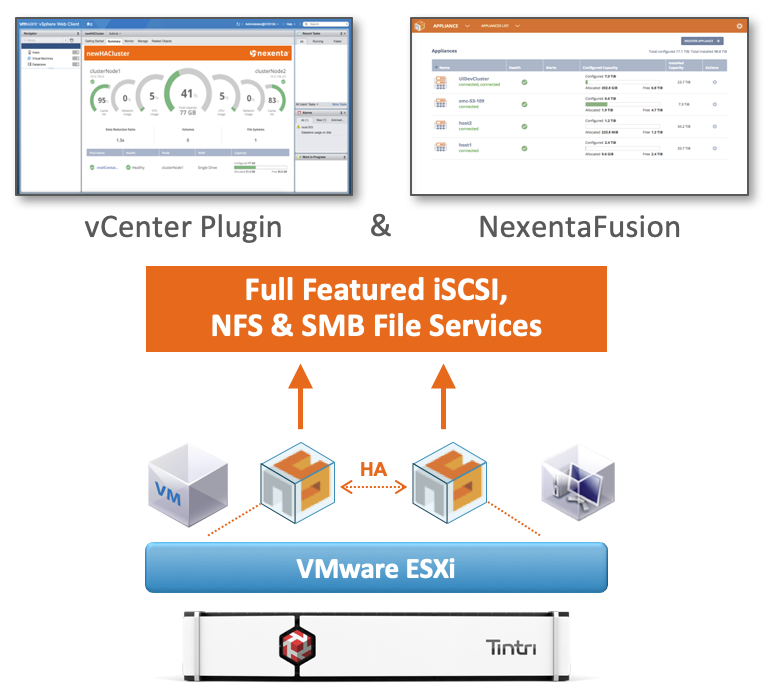 NexentaStor VSA for Tintri Differentiation
Enterprise Feature Set

NFSv3, NFSv4, SMB 2.1, SMB 3.02, Active Directory integration, Windows style ACLs, space-optimized snapshots, clones, remote replication

Optimized for Tintri

Maximize space savings from Tintri inline compression and deduplication

 

No Added Hardware

Leverage your existing Tintri infrastructure, and simply add our software-defined storage to it

 

Simple Management

CLI, state of the art REST API and centralized management via NexentaFusion or a VMware vCenter plugin (Flex or HTML5)
Use cases
| | | | | |
| --- | --- | --- | --- | --- |
| | Virtual Desktop Infrastructure |   | | User Directories and Profiles |
| | Branch Office Consolidation |   | | Line of Business Applications |
For more information in the solution, please visit our blog.